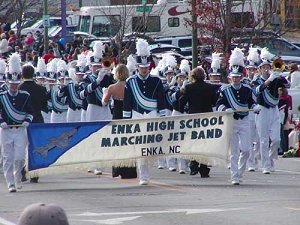 The Award-Winning Enka Band has built a reputation of being one of the finest and largest bands in the area. The band has become a tremendous source of pride for the Enka community.
The Enka band students are under the direction of Kevin Young, who is only the 4th band director in the history of Enka High since it's inception in 1955.
The Enka Band Boosters are an extremely active organization, working tirelessly to maintain support for this large group of Enka High students. Band provides an outlet for the development of musical talents and abilities, which are skills that will last a lifetime. In addition, when students perform with this outstanding group, they have a sense of accomplishment and belonging that makes band one of the best parts of school.
VisitEnka Band to learn more about how you can become an ENKA BAND BOOSTER and view schedules, meetings and events.