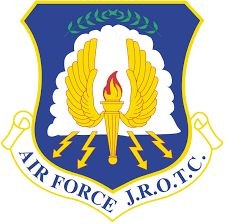 NC-041
During the 2019-2020 school year Enka High School AFJROTC earned the DISTINGUISHED UNIT with MERIT AWARD.
Only 10 % of AFJROTC units achieve this recognition.
The Air Force Junior ROTC Mission:
To develop citizens of character, dedicated to serving their nation and community.
JROTC Goals:
Instill values of citizenship, service to the United States, personal responsibility, and a sense of accomplishment (and to have fun in all we do!)
The mission of the United States Air Force:
Fly, Fight and Win...In the Air, Space and Cyberspace.
The US Air Force Core Values:
1. Integrity First
2. Service before Self
3. Excellence in all we do
Activities:
Field Trips, Color Guards, Honor Guards, School Cleanups, Guides and Parking Details for school events, Veteran's Day and Memorial Day events, Saber Team, Flag disposal ceremonies, visits to Air Force bases, college campuses, and museums and many more!
Unit History:
Enka Air Force Junior ROTC was chartered in 1969, and designated as NC-041.
Instructors:
Senior Aerospace Science Instructor - Major Kevin Den Boer
kevin.denboer@bcsemail.org
Aerospace Science Instructor - MSgt Doug Draper
douglas.draper@bcsemail.org